Overcoming Brokenness!
Heartache is a part of our everyday lives.  It is part of the human condition.  In the same manner in which we experience happiness, peace and joy, we also will experience heartache, sadness, disappointment, loss of loved ones and broken relationships.  We take the good with the bad, the happy with the sad experiences and times of jubilee as well as disappointment.
No one leaves this earth without having suffered loss.  People will come in and out of lives. Some will stay longer than others.  But there is a lesson to be learned from all who enter our lives.  What have these people taught you?  Have they taught you about unconditional love, the importance of laughter, the value of making a heart-to-heart connection rather than just existing in your head?  Have they taught you about the significance of learning how to forgive others, including yourself?
Life is full of lessons and we must learn from everyone, if we are to grow into the person that God has called us to be?  Growth, of course, is painful at times, especially when it involves learning more about ourselves.  What have you learned about yourself?  Have your loved ones told you that you are domineering, controlling, judgmental, insecure? Have they told you that you are rough around the edges, too opinionated or critical of others?  You don't really know how you come across to others until you ask someone who really knows you, "How do you see me and what areas do I need to work on?"
No man or woman is an island.  You need others to help you take an honest look at yourself.  It's called, "taking inventory and being accountable."  Sometimes, this requires seeing a professional counselor or therapist, a pastor or mentor who possesses much wisdom in the area of relationships and healthy communication.  But you have to be willing to humble yourself in order to grow.
No one ever arrives.  In other words, no one ever experiences perfection on this side of eternity.  We all have blinds spots and we can't see them all.  That's why we need others who we can trust to lovingly point out those areas of darkness in us so we can acknowledge those areas.  Then, we should take those areas of weakness before the Lord and ask Him to help us to die of our selfish ways daily so He can do a new work in us.  Fortunately, the Apostle Paul encourages us in Philippians 1:6 when he declares, "being confident of this very thing, that He who has begun a good work in you will complete it until the day of Jesus Christ."  We are a work in progress as we give our Master Builder permission daily to prune our rough edges so we can more accurately reflect His love in us to others.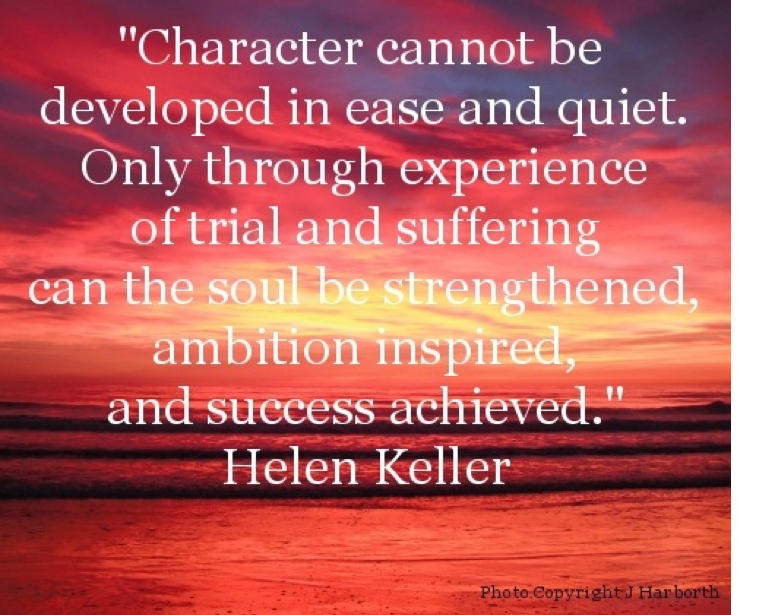 It is reassuring to know that we are not in this race alone.  The Lord sends us messengers often to help us along our way.  Just remember not to turn those people away when you know they are a God-send.  Sometimes, we have to humble ourselves in order to receive a word from the Lord.  1 Peter 5:6-7 reminds us, "Therefore humble yourselves under the mighty hand of God, that He may exalt you in due time, 7 casting all your care upon Him, for He cares for you."
Be encouraged, my friends, and take one day at a time.  Each day is a new day to learn more about yourself and others and to mature into the person that God has called you to be.  You will suffer loss and heartache, but the Lord will always lift you up as you seek Him and receive the messengers that He sends your way to help mend your broken heart.  You are called to finish the race with joy, not heartache, and the only way to do that is to draw from God's strength so you face your burdens head on.  And remember, you are not called to be an overcomer by yourself.  Galatians 6:2 reminds us to, "Bear one another's burdens, and so fulfill the law of Christ."
Have a blessed day!
Victor Torres